T R U T H A N D L I B E R T Y.



Vol. ? Salt Lake City, Utah, Saturday, December 20, 1913. No. ?


Brigham Young in His Earlier Years
________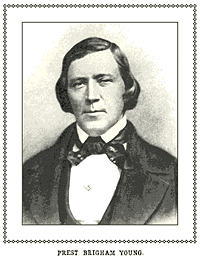 The historical document published herewith, is a photographic reproduction of the commission of Prest. Brigham Young as governor of the Territory of Utah, signed by Prest. Millard Fillmore and Secy. of State Daniel Webster. It bears the date of Sept. 28, 1850. The seal of the Nation, now faded and almost beyond deciphering, can be seen faintly outlined at the lower left hand corner. The original commission hangs in the Deseret Museuem.




Interesting in this connection is a paper read some time since before the Cayuga County Historical society, published in the Auburn, N. Y. Bulletin. The paper was prepared by William Hayden of Unadilla Forks, formerly a resident of Port Byron, where Prest. Young lived in his youth. Mr. Hayden's paper was as follows:

"Ladies and Gentlemen of the Cayuga County Historical Society:

"In appearing before you at this time, it is not my intention to give a lengthy historic account of any single person, but simply to recall a few incidents in the lives of three individuals, former residents of this county. Some of those facts came under my personal observation, while many more were received from friends and associates of the parties concerned.

"It will be remembered that until the completion of the Erie canal, this section was to be reached only by the most primitive modes of transit -- horse and wagon, or on foot. At that time, West of Utica was considered by New England people 'the far West.' With the advent of this 'new water way' villages began to spring up along its course, affording inducements for settlement for enterprising persons from older localities.

"At Port Byron a large water power was being developed and a flouring mill then in process of erection was destined to surpass in capacity anything in the United States. This and other advantages made it especially attractive to many in search of employment and new homes.


THREE BRIGHT YOUNG MEN.

"At about this time, three young men from different sections of the East, each possessed of more than ordinary ability, arrived in Port Byron. They soon formed an intimate acquaintance which was life lasting. They were often together and their close friendship obtained for them the appellation of the 'three wise men from the East."

"One of these was a boot and shoe maker (no ready-made foot-wear was then to be had), one was a machinist, while the third was an expert in wood work, [a] skill to which he added a general knowledge of paints and painting. The boot and shoe maker located in rooms of a new building (still standing) on the corner of Main an Rochester streets. The machinist found a small room in the corner of a saw mill where he had the advantage of water power.

"These men were soon made aware that while a new country might afford opportunities whict an older one did not, it also had its draw-backs, not incident to less recently settled sections. Having a commenced business with a small amount of capital and not being able to get pay for their labor, they soon found themselves in embarrassing circumstances and as a consequence, were obliged to suspend and to look to other fields for employment, where Dame Fortune should be more merciful to them.


FIRST TWO SUCCESSFUL.

"The first mentioned of these two became a founder of a business which has continued until now and has expanded until its activities today reach all portions of the civilized world, the railroad express. He also founded and endowed a college for women which has graduated some of the brightest intellects in the Nation. This school should be the pride of every citizen of Cayuga county and future generations shall honor the name of Henry Wells.

"The machinist found himself, if possible, in a worse dilemma than did his friend, the boot and shoe maker. Instead of a great rush of customers with cash in hand to pay for their work, as he had pictured, he found but few and their visits, like those of angels, were few and far between. Some brought rusty guns with broken locks to be repaired, for which they usually wished to remunerate him with the pelt of some wild prey, whose capture they anticipated, and thus desired to discount. His cash receipts meanwhile were less than sufficient to pay his board. When not engaged to work for others, he old not pass his hours in idleness. His mind and muscle were kept actively engaged day and night and, while many of his friends believed that he was pursuing a phantom, he was positive that he could construct a machine which would revolutionize a great industry and ameliorate the condition of working women.

"Having completed a model from which believed he could construct a perfect working machine, he found it necessary to remove to some locality where he could have better facilities for the completion of his work. A few months later it was announced from the Patent office that letters patent had been granted for a perfect working sewing machine and today millions in use in all parts of the world have made the name of Isaac Singer a household word.


THIRD A GREAT LEADER.

"The third of the trio was to become as famous as his companions, being the founder and builder of a State and the head of a religious sect with followers and believers numbering hundreds of thousands from all quarters of the globe.

"Brigham found employment to do such work as might be required of him at 50 cents per day in a pail factory, then a new enterprise in this portion of the State. The factory was located on the Owasco outlet one and one half miles South of Port Byron and five miles North of Auburn, by way of State street. The building in after years for more than half a century was known as Hayden's Woolen factory, a landmark still in existence and one which many in this audience will readily call to mind.

"Brigham, as he was familiarly called, was first employed at painting wooden pails -- the work being done in a manner so satisfactory as to call forth many compliments from the proprietor, Mr. Parks. Brigham suggested that there was still a chance for improvement if the paint could be properly prepared. This, declared, could be done with slight additional expense and, once arranged for, would enable Mr. Parks to dispense with the services of one man, while the work itself would be better done


INVENTED WATER WHEEL.

"It was agreed that Brigham was to make the improvement in one day, Mr. Parks to furnish the required material. That evening Brigham selected his lumber and at dawn of day he was found busy at his task. At noon he had a small water-wheel completed and, while the other operatives were at dinner, he drew the water from the flume, adjusted a gate and had his wheel in running order upon their return.

''His wheel had an upright shaft some five or six feet high with a slant of 35 or 40 degrees. On the top was arranged a frame to hold a large old-fashioned dinner pot, Into which the paint was put with a cannon ball weighing 25 pounds. When the wheel was set in motion it would revolve in one direction, while its slanting position would cause the ball to roll in the opposite direction. The idea was that the continued rolling of the ball would grind or pulverize the paint to the desired fineness. This improvement was pronounced by all a complete success and thereafter Brigham was consulted in regard to all proposed alterations and improvements upon the premises.

The canon ball above mentioned was captured from the British at Saratoga in 1777 by a relative of Brigham's (father or uncle) who carried it to his home more than 100 miles on foot. Brigham himself brought it from Vermont. He left it with my brother and for many years it was used to grind indigo as it had formerly ground paint. It is now in the possession of my brother, John Hayden.


PREVENTED A FIRE.

"That Mr. Young was quick to discern and instantly to comprehend a situation was amply illustrated a short time after commencing his work in the factory. The floors of the factory were covered with pine shavings and the only fire protection was numerous pails in each room, filled with water. A thunder storm had begun and was fast reaching its height. As it had become too dark for work, the machinery was stopped and most of the workmen, with several outsiders, had congregated on the second floor when a most terrific crash came, throwing stove and stove pipe in all directions and filling the room with ashes and dust. Almost as quick as the lightning itself, Brigham caught up two pails of water and started for the lower floor shouting to the others still standing as if paralyzed. 'Every man get a pail of water and watch for fire!' It was conceded by all that his prompt action alone saved the building from destruction. The slight effects of this lightning stroke are still pointed out to those curious to see.

"Several persons in Port Byron and vicinity conceived the idea that it was possible to construct a perpetual motion machine, one that would produce power to run itself indefinitely, and in efforts to contrive such an apparatus had spent much time and money. Some of these came to consult Brigham on the subject, hoping to enlist his acknowledged skill in the enterprise. After spending some time in picturing to him the great pecuniary benefits and the renown of having solved a problem that had for ages baffled the skill of mechanical engineers and scientists, he was asked for his opinion as to its feasibility. In answering, Brigham smiled and, pointing to a large basket standing near, said: 'When one of you will get into that and carry himself up that flight of stairs, I will believe it possible to carry out your ideas.'


AS A DEBATER.

"School house debating societies were in vogue in those days and one being announced to occur in the school house near by, Brigham was invited to attend. He went with the intention of being a listener only, but was drawn in as a participant, and at the close was looked upon as the lion of the evening.

"In the course of his argument, he drew the portrait of a would-be smart young man so perfectly that one in the audience took it all to himself and springing to his feet he threw off his coat, declaring his intention to whip Brigham there and then. Older ones finally persuaded the young man to keep quiet, though he repeated his threat to do the whipping as soon as they were out of doors. Brigham, in a very calm manner, merely noticed the threat by saying that he was not a fighting man, but that if attacked, he should most assuredly defend himself and that the result must determine who had received the whipping. It is needless to say that he was not attacked.


RECOVERED THE BODY.

"One incident in the life of Brigham Young of which I was an eye witness will never be effaced from my memory. Little Willie Carpenter, a lovely boy of about three years, was allowed to go and meet his father, a workman in the carding machine building about 10 rods South of the pail factory. When the little one did not return as expected, an alarm was given and a search begun. Brigham at once concluded that if the boy had fallen into the raceway, the current would have drawn him into the flume and out of sight. He immediately plunged in and, after a few moments of swimming and feeling about in the raceway, the body was found and brought out.

"The frantic mother caught the limp little body in her arms and it was sometime before Brigham could persuade her to allow him to take measures to resuscitate the child. It was too late, however for life was extinct. I have often heard it remarked afterward that Brigham shed more tears over the loss of this little child than did its own father.


OTHER INCIDENTS.

"Another incident comes to mind in which Brigham was a prominent figure. The lady of the house in which several of the factory help boarded rebelled at being obliged to carry the water for culinary purposes from a spring some 30 to 40 rods distant and requested Mr. Parks to have a well dug near the house.

"Mr. Parks proposed to have it dug about 10 rods North of the house at a point where the ground was lower and argued that the expense would be proportionately less. This idea not being in harmony with the wish and convenience of the lady, a somewhat heated discussion arose and, not being able to harmonize the situation, it was finally agreed to appeal the case to Brigham. After listening to the arguments on both sides, he decided that the place for the well was near the house, assuring Mr. Parks that the fact that the ground was higher at that point was no reason why water could not be secured with no greater depth of digging, calling his attention to the fact that the spring from which water was then procured was much higher than the ground upon which the house stood.

"Mr. Parks had many excuses for not digging the well, the strongest being that no man could be found with the necessary skill to lay the stone in stoning it up. To this objection Brigham proposed that if Mr. Parks would furnish help after the close of the day's work in the factory, he would himself undertake the stoning up of the well and would guarantee its permanence.

"This generous proposition was readily accepted and work on the well speedily begun. At a little less than 20 feet a good stream of water was reached, which has continued to flow copiously until the present day. Some 10 nights of hard work for three or four hours each night and the well was completed and ready for use. Mr. Parks expressed himself as much pleased and with his customary generosity presented Brigham with a dollar which it was afterward said that Brigham tossed into the well as a thank offering. This I will not vouch for, but I do know that when the well was being cleaned some 20 years afterwards a silver Spanish dollar was found.


A LITTLE LOVE STORY.

"While Brigham was employed in the pail factory, a young lady friend of the proprietor's family who was in the habit of visiting there was introduced to him and this was the beginning of Brigham Young's acquaintance with a very worthy young woman, Angeline Works. As their acquaintance ripened, her visits were thought to be a little more frequent, or, at least, they were noticed more. Her long walk home in the evening would have been monotonous, not to say dangerous, if indulged alone, therefore Brigham, with characteristic gallantry, used to accompany her, her home being distant from his boarding place about four miles, or one mile South of Throopsville.

"As might have been expected, only a few of these long walks were enjoyed before arrangements for marriage were entered into and on the morning of the wedding day, while we were at our breakfast, a sharp rap called my father to the door. A short conversation ensued, after which father and his visitor went to the barn and soon we saw Brigham drive out of the yard with our horse and wagon. (Buggies and carriages were then unknown luxuries in that section.) My mother wished to know why father would allow Brigham to take his horse when his rule was to refuse it to all enquiring young men. His reply was that Brigham was not like most young men, for he knew enough to use a horse and not abuse it and, besides that, he was going to bring home a bride. The last idea was a conundrum to me, but was explained and always remembered.

"Wedding trips to Washington or other distant places had not at that time been invented, so in a few days Brigham and his wife were installed in the house near the new well, the family formerly living there having moved.


BRIGHAM'S HOME.

"Were Mr. Young alive and here as a listener, I do not think that he would object to my giving you a brief description of the house and its surroundings. Having occupied the house more than a score of years myself, during the first years of which with my young wife, the house was just as it had been in former years, I may speak as an authority.

"This section was originally covered with a heavy growth of heavy timber, mostly hemlock on the hills, which had been recently cut away, leaving at the time of which I write, the ground nearly covered with stumps. The house was a frame building 13 feet wide and 24 feet in length, a short story and a half high, devoid of paint inside or out, standing with the end toward the road nearly opposite the old factory and directly in front of the old bridge crossing the outlet between Throopsville and Port Byron.

"In the East end was an old-fashioned fire place and large chimney, with stairway on one side and a small pantry on the other. Two rooms were partitioned off on the West end for bedrooms, being about seven feet square. The intervening space was parlor, sitting-room, dining-room and kitchen combined The lower rooms of the house were roughly mastered but were without the luxury of a cellar.

"This house, being but little inferior to the best, and much superior to many in the neighborbood, we had no reason for complaint, but rather much to be thankful for in the comforts it afforded.


A GREAT BIBLE READER.

"Brigham was accounted a great reader, the Bible receiving the first and greatest share of his attention, after which ancient history and the weekly paper claimed his interest, dailies not being printed at that time. Sunday afternoon when the weather was suitable, he would usually be seen with his books occupying a rustic seat under a large sycamore tree beside the creek.

"After working in the pail factory about two years, Mr. Parks, the proprietor, died, and, not being certain of steady employment, Brigham accepted a good offer to work at the boat yard in Port Byron and moved to that village. Here he was soon put in charge of certain portions of the work of building boats for the Erie canal and would often be sent into the wood with gangs of men to select timber suitable for the work.

"In after years I have heard the proprietors of the boat-yard say that Brigham would do more work in a given time and better work from his help without trouble than any man they had ever employed.

"While engaged in boat building, the air became filled with rumors of a new revelation, to the effect that a new Bible written upon golden plates had been dug out of the earth at Palmyra, a canal village 25 miles west of Port Byron. Each day brought new accounts of the wonder and each account would differ from its predecessor. Finally Brigham determined to investigate for himself, expecting to be able to expose it as a fraud.

"Accordingly, on a Saturday morning he boarded a west-bound canal boat and Sunday morning found him in Palmyra, where he spent the day with those who had been investigating the subject. Becoming interested, he spent several succeeding Sundays in like manner and, instead of exposing the new teaching as a fraud as he had anticipated doing, he became a firm convert to the doctrines there expounded."

"In a conversation with the late D. B. Smith, for many years one of the leading merchants of Cayuga county and an intimate acquaintance of Brigham, he remarked to me with emphasis that Brigham Young was as fine a specimen of young manhood as he has ever known, one that would have made his mark in whatever community his lot might have been cast.

"Mr. Young having been called upon to remove to Ohio at a date earlier than he had anticipated, was obliged to do as his two friends had done when they bade farewell to Port Byron, following also a precedent which was largely a custom in those days, i. e., to leave a few unpaid bills behind him. Before leaving, however, Mr. Young called upon each and all of his creditors, obtaining from each the amount of his indebtedness and assuring each that he would receive the same, he bade them a friendly good bye. Friends in Port Byron occasionally received letters of remembrance from him and in the Spring of 1866 a son was sent with a list of such debts, all of which were duly paid with a goodly amount of interest.

"As regards Brigham's political opinions, I remember but little. My early recollections would lead me to conclude that the strife between contending parties waxed as warm as in later years. One little incident may be related in which Brigham was the star actor. He was a great favorite with the small boys then quite numerous in the pail factory neighborhood. Having on this occasion collected what would in the parlance of to-day be called 'a pack of kids' (the narrator was one of them) he took them onto the bridge and arranged them in a row and after making them a short speech on good manners for boys, he ordered all to take their hats in their hands and do as he did and to holloa as loudly as possible. 'Now, all at once, swing your hats and hurrah for Andrew Jackson.' "


Note 1: The above telling of Brigham Young's stay at Hayden's Mills (Auburn) is the most lengthy and detailed account available from that early period in President Young's career. As it comes from an eye witness and was evidently never questioned by the Young family, it can be accepted as a fairly accurate set of recollections. The mentions of Henry Wells and Isaac Singer are barely informative, and it appears that Mr. Hayden did not know either of those two men very well. However, he identifies the trio of 1820s Port Byron residents as sharing a "close friendship" that brought them "often together." In Susa Young Gates' 1929 radio address (later published as a pamphlet under the title Brigham Young Patriot, Pioneer, Prophet and Leader of the Latter Day Saints) the narrator spoke of Brigham's early associates and listed "Among these friends... Henry Wells of Wells-Fargo fame."For more on Wells, see George Arms' 1941 article, "The Story of Henry Wells," in Americana, XXXV (1941) pp. 249ff.

Note 2: Most 19th and 20th century LDS renditions of Brigham Young's biography omit the c. 1827 episode mentioned by William Hayden, regarding Brigham's trip to Palmyra to investigate Joseph Smith and the Book of Mormon; even the LDS Young Woman's Journal of July 1904, which quotes extensively from Hayden's address, leaves out Brigham's reported investigative trips to Palmyra. Perhaps this was because the Mormon writers deduced that Brigham had moved his family to Oswego on Lake Ontario by that time, and so they mistrusted Hayden's recollection. The story is feasible, however. In an address given in Salt Lake City, on April 6, 1855, Brigham is reported to have said "I was somewhat acquainted with the coming forth of the Book of Mormon, not only through what I read in the newspapers, but I also heard a great many stories and reports which were circulated as quick as the Book of Mormon was printed, and began to be scattered abroad." (Journal of Discourses, Vol. 2, p. 249.) Of course the Book of Mormon was not yet published during the period when Brigham resided at Port Byron -- and the first proof sheets from Grandin's printing office were just barely being circulated when Brigham left Oswego, for temporary residence in Mendon and Canandaigua, at the end of the 1820s. The time period for Brigham's personal recollections of this matter should probably be restricted to late 1827 through early 1830. In an interview with the New York Sun's reporter, Melville D. Landon, in 1877, Brigham reportedly said: "when I was 26 old -- this was in 1827, and I was living on [Ontario] Lake -- I picked up a Palmyra newspaper one day and read this paragraph: 'A young man named Joseph Smith, formerly of Palmyra, but now living in Manchester, N. Y., claims to have received a spiritual revelation from God. They say a messenger from God has visited Smith in person, surrounded by a halo of glory, and given him information in regard to the aboriginal prophets of this continent. The angel delivered to Smith six golden plates, engraved with Egyptian characters. These characters, when translated, go to show that Jesus Christ, after his resurrection, appeared on this continent, had American apostles and prophets, and that one of these prophets wrote an account of Christ's doings in America and hid it in the earth.'" -- Although Brigham may have have come across such news as early as 1827, he could not have read any such report in a Palmyra newspaper until the Aug. 11, 1829 issue of the Palmyra Freeman was printed.

Note 3: President Young need not have depended entirely upon the newspapers to hear that "a new revelation... written upon golden plates had been dug out of the earth at Palmyra," however. His friend Henry Wells had a mother-in-law living in Palmyra at the time -- and evidently in the very house Joseph Smith, Sr. had occupied before moving a couple of miles south to a farm in nearby Manchester. Wells gave an account of his traveling (in company with his wife and mother-in-law) that same short distance, in what must have been late 1827 or early 1828, to speak with Lucy Mack Smith: "Mr. Wells made of this an errand on which to visit their [the Smiths'] house, and with his wife and her mother, rode some two miles to their humble dwelling.... He then asked to see the notorious plates.... The volume of plates was encased in a cotton bag, which he was not permitted to open.... He thought they did not possess the weight of metallic plates, but conjectured that they were slate stone." If Brigham received similar first-hand information from an acquaintance (such as Henry Wells), it is not unreasonable for the reader to believe that he would have gone to Palmyra and "spent the day with those who had been investigating the subject," or to accept the possibility that he "spent several succeeding Sundays in like manner."

Note 4: Late in 1830 Brigham moved to Canandaigua township, a few miles south of the Joseph Smith, Sr. farm, in Ontario County, in order to work on a domestic construction job for Jonathan Mack. That temporary relocation placed Brigham in very close proximity to his future superior in the Mormon Quorum of Twelve, Elder Thomas B. Marsh. Elders Martin Harris and Hyrum Smith lived almost within walking distance of Brigham Young's residence. Harris, Smith and Marsh were all zealous proselytizers at that time. Harris was then preaching Mormonism in the Canandiagua newspaper office of W. W. Phelps (who would soon convert to the new sect) and Joseph Smith, Sr. was holding Sunday services at the Canandaigua jail. Joseph Smith, Jr., Samuel H. Smith, Ezra Thayer and other Mormon preachers were active in the area. It hardly seems possible that Brigham Young could have avoided the Mormonism phenomenon while living in Canandaigua. Like Phelps, he was probably already a convert before seeking baptism and traveling to Kirtland to "gather with the saints."