In reading through the old published histories of northeastern Ohio, a perceptive investigator will naturally come across a great deal of material relating the activities of the early Mormons in that region of the country. And since Elder Sidney Rigdon was a prominent preacher there, both before and after he joined the Mormon movement, his name frequently appears in these old compilations. Two interesting excerpts might be cited here, as examples of Ohio historians' assertions regarding Rigdon and his supposed role in preparing the way for Mormonism in the Buckeye State.

The first excerpt is taken from pp. 263-64 of Harvey Rice's 1881 Incidents of Pioneer Life in the Early Settlement of the Connecticut Western Reserve:


In the year 1827, Rigdon left Pittsburgh and commenced his career as a preacher, and soon acquired a wide reputation as a controversialist. He then began to promulgate new theories and strange doctrines. He had evidently conceived the idea of constructing a new religious creed. Soon after this, while preaching at Palmyra, N. Y., and in its vicinity, he made the acquaintance of Joe Smith, who professed to have the gift of prophecy, and found in him a kindred spirit. They became intimate, and soon afterwards projected the scheme by which the "Book of Mormon" was announced to the world as a Divine revelation.

The second excerpt is taken from p. 169 of The Geauga County Historical and Memorial Society's 1953 Pioneer and General History of Geauga County:


Another interesting person was Sidney Rigdon. The Book of Mormon, or a large part of it, was written by him during the winter of 1825 and 1826 in a log house about a mile and a quarter south of the Center [of Bainbridge township]. Three years later, the Book of Mormon was ready for publication, and in April, 1830, was published. Rigdon was then preaching for the Disciples in a church at Mantua. He at once announced his conversion to Mormonism.

Even a cursory examination of the two undocumented sets of allegations reveals some evident errors -- Rigdon arrived in Ohio several months before the commencement of the year 1827 -- there is no verifiable evidence that he was engaged in public preaching "at Palmyra, N. Y., and in its vicinity" prior to the end of 1830 -- and the "Book of Mormon" (misspelled in the original text of the second excerpt) was published in whole before April, 1830 and in part, as early as 1829. Despite their superficial flaws, these are rather serious and startling allegations which run contrary to what the Mormons have to say about their origins, and about the role played by Elder Rigdon in their early years. This episode of the "Rigdon Revealed" series is dedicated to a close examination of these remarkable claims and their probable sources.

At the end of 1825 the recently disfellowshipped Baptist pastor, Rev. Sidney Rigdon, wound up his business at Pittsburgh and began the a long, cold journey with his family to their new home on the Ohio Western Reserve...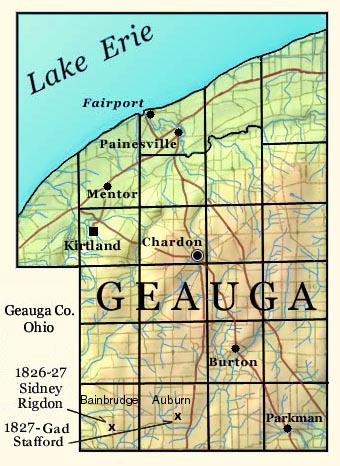 The Rigdons lived about a mile south of Bainbridge Center,
on a small plot of land provided by the local Baptists.

View larger maps of Bainbridge & Auburn from 1857.
View larger modern map of Bainbridge-Auburn area.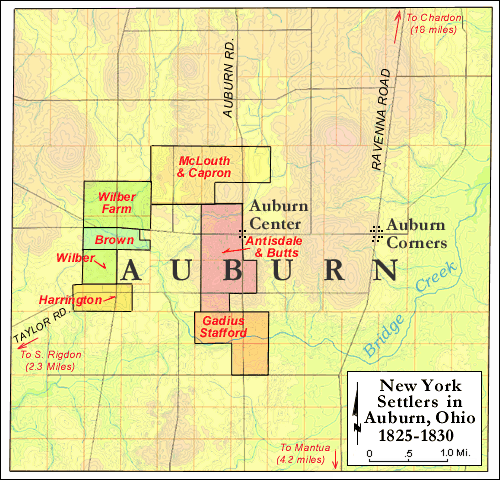 George Wilber was a young man, living on his father's farm in Auburn, Ohio
when he first encountered Elder Sidney Rigdon and Joseph Smith in that area.
According to Pomeroy Tucker, Gadius "Gad" Stafford was an early Smith follower.