Vol. XLVI. - No. 7857. Honolulu, Mon., Oct. 14, 1907. Price 5 ¢


CHURCH DEDICATED BY
THE SON OF THE PROPHET.
________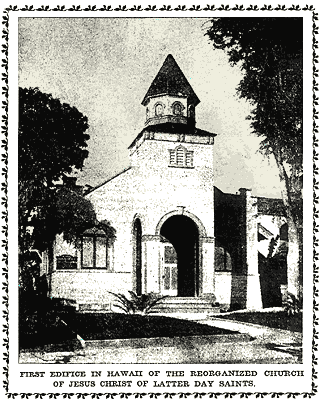 With simple but effective ceremonies and services, the first church edifice of the body of Christians known as the Reorganized Church of Jesus Christ of Latter Day Saints was dedicated yesterday morning.

The church is a frame structure on the mauka side of King steeet opposite the Catholic cemetary. It is of pleasing ecclesiastical architecture of which many examples may be seen scattered through rural regions of the Mississippi Valley and the Alleghany region. There is adaptation to this climate, however, by an abundance of windows to secure ventilation. The entrance is through a square vestibule formed by a tower terminating in a pleasing cupola. The pulpit platform, with small rooms on either side, occupies the mauka end of the church. The platform is raised higher than is usual in most churches and is reached by steps on the left. The interior of the church is finished in natural wood. The ceiling is vaulted and supported by framed trusses. The pews are in dark stained wood and exceedingly comfortable. The pulpit platform and the organ were pleasingly ornamented with ferns and great jardinieres of cut flowers, carnations and asters.

The dedicatory services were at 11 o'clock. There was an audience that practically filled the seating capacity of the church, about two hundred. The opening hymn was one by Lowell Mason, whose recent death recalls the high place he had in Christian hymnology. A quartet consisting of Mr. and Isaac Harbottle, Miss Pilkoi and Mr. Kahanamoku sang an anthem.

On the platform were President Joseph Smith, elder son of the Prophet Joseph Smith, Elder F. M. Sheehy, who with another has charge of the missions of which this is one, and Elder Gilbert J. Waller, who has been in large degree the pillar and support of the church in these Islands for many years.

The formal acceptance of the church was symbolized by the presentation by Elder Waller on behalf of the congregation of the key of the church ediface to President Smith, who accepted it on behalf of the Bishop, and returned it to Elder Waller for the use of the congregation.

The sermon by President Smith was a simple, straightforward presentation of the purpose of the church to be, to present the truth to all men as it was presented by Christ to his disciples and those whom he sent, to be by them presented to those who should follow after, until all should have the opportunity of hearing the gospel.

President Smith is a benignant figure, gentle, kindly, yet not lacking vigor nor strength. He is a tall, well built man, erect in spite of his seventy-five years, his gray beard softening a face which a slightly aquiline nose would otherwise make too severe.

The dedicatory invocation following the sermon was by Elder F. M. Sheehy, who has a voice of marvellous richness, and a diction that is almost eloquence in itself.

After the regular services there was the blessing of an infant, and the confirmation of a number who had been baptized at an earlier service. The babe presented by the mother was taken in the arms of Elder Sheehy, while the venerable president commended it to the care of a loving Father and of Him who blessed little children, in an invocation dignified and gracious.

The confirmation was accomplished with the laying on of hands, and in this service President Smith was assisted by Elder Sheehy, Elder Waller, and Elder J. W. White of Kauai who had come over for this service.

At the evening service the sermon was by Elder Sheehy. There will be special services throughout the week, Monday, Tuesday, Thursday and Friday evenings, at which President Smith and Elder Sheehy will preach. Following the opening hymn, prayer and anthem, Elder Waller began the service thus:

"My brothers and sisters and friends, I take much pleasure in introducing to you President Joseph Smith whose visit here at the present time to our hospitable shores was undertaken at the earnest anticipation of the local members who have long desired to see him.

"The recent completion of this church edifice was very largely made possible by the generosity of our many friends, whom we take this opportunity of thanking, afforded our local branch of the desired opportunity of extending to President Smith an invitation to come here and conduct the services connected with its dedication. There had been some misgivings on our part as to whether Elder Smith would undertake at this period of life so long a journey, but his presence here testifies to the willingness with which he responded.

"We are pleased to welome him in our midst, feeling assured that his prominent identification with the work which we have endeavored in the past to represent here will obtain for him an interested hearing, and knowing as we do by reason of long and pleasant association that his frank manner and kindly disposition will win for him a warm place in your hearts.

"We therefore bid him a hearty welcomr and trust that his visit may open up to him a vista of pleasant associations and agreeable experiences that shall add an interesting chapter to his long and eventful life.

"We feel sure you will accord him a patient and attentive hearing."

Then, turning to President Smith, Elder Waller continued:

"Now, dear brother, as president, of the branch of the church here, I will take pleasure in turning over to you, the president of the church -- representing the Bishop, the custodian of the church property, this key of the building, stating for your information and for the information of others, that there have been expended in the purchase of the lot, in its improvement of, and in the erection of the building about $7000, and that there is no debt upon the property."

Replying, President Smith said:

"I return this key to you, Elder Waller, to be used for the benefir of the local congregation and I also trust that from this pulpit and from out [of] these walls nothing but good shall come -- good thoughts and good words -- and that there shall be exemplified here what our church stands for, an open Bible and a free pulpit. Also, Brother President, I thank you, and you, my brothers and sisters, and your friends, in the erection of this building, for the kindly welcome extended to me.

"I have long had the desire to visit the Islands of the Sea and they have long been within the circuit of my labor. I am pleased that the opportunity has come to me. I thank you for the kindly interest you have taken in the work which I represent.

"There is a question which arises within the great diversity of religious thought. It is important, at the inception of every religious movement, especially anything considered new, or that has borbe the appellation of being new, that those who inaugurate such a movement should be prepared to give to the community in which it takes its stand, reasons why they assume the positions which they do in this religious controversy; for disguise it as you may, the question is not settled. It is still open for human inquiry, for human discussion, and so far as possible, for human determination. In teaching this, there arises the question of what should be the doctrine discussed from this pulpit by those in whose interest it has been erected. Possibly I may be answered as I many times have been, that the discussion of doctrine is not profitable -- that to discuss doctrine in the Christian church has a species of fatality to it, that it is introducing controversy, controversy resulting in excitement, contention and apparent separation. This, we know, has been the history of the churches from time immemorial. This is the only answer, that if it can be conceded that Jesus Christ has so carelessly wrought in the mission which His Father sent Him upon, and in the interests of which he called his disciples, so carelessly, that the preaching of the doctrine of Jesus Christ is calculated to destroy its own organization, it is time this event occurred and that the character of the doctrines of Jesus Christ, which He came to teach, and for which He died, should be well known everywhere."

Reading from the Gospel by St. John, President Smith continued:

"This from the 17th chapter of John's Gospel -- the prayer of the Master for His disciples, and also for those who should believe in His name.

"The question, as I have said, in this religious movement, is this: Is this mission of Jesus Christ, a world-wide one? Was that to be the intention of God? Were all portions of this world to be reached and to have declared to them the Word of God by those sent to continue His work until the end of time? Was it those other portions also that were to be sanctioned by the Word of God? Our inquiries, our desires, and our interests for all, declare these questions to be just as vital now as ever; and the question is just as far reaching as it was when uttered by the Master, and when He made this statement: 'As Thou hast sent me, I will also send them.' They should continue forever unto the children of men and be that which is to be found imperishable. They should be such that they will never pass away though everything else of the guman character should pass away; because of the wonderous love exhibited to men, mankind might come to know that the price of truth alone should stand and that everything else that could be shaken, should be shaken and fall.

"We come this morning with the idea to do that only which has been declared to be the word which shall be found upon our lips. We have no interest other than in our effort to preach to the children of men; and while it may be said that the price of life and salvation are open to the inquiry of every man who chooses to read the Sacred Word, there are evasions everywhere of the Master's meaning, and when men pray: 'Our Father who art in heaven; hallowed by Thy name; Thy kingdom come; Thy will be done;' these very men will arise from their knees and absolutely and positively deny the strictest and straightest, deductions that anyone may draw from the meaning of the Word itself. We have a statement made by Him like this: 'My doctrine is not my own, but his that sent me.' Found in the 7th Chapter of John, and the 17th verse. If any man will do His will, he shall know of the doctrine. He makes this statement in answer to inquiries by those around Him: 'My doctrine is not my own, but his that sent me.' Christ has never called a man to misrepresent Him but endowed each to preach that which He had confided to him. Christ came to teach man and to discipline them in taking out from themselves those evil and wrong things with which man has always been afflicted, and to teach them to secure uprightness and justice among men, which is in men, because of God's love for them. And there has never been anything accomplished by instilling fear in men. It is not productive to good results to teach by trying to scare men. It is not fear, but love, that is constantly required in teaching. It was love that sent the Master. It was love that characterized every act of His life. On one occasion He was angry; it was only once that He was excited. Then, when in the courts, He saw that His Father's house was made a house of merchandise instead of a house of prayer."

Continuing, President Smith sought to show that enforced goodness had no moral excellence, that goodness must be from within; it was from the impelling power of religion in the heart that evil tendencies must be subdued. He and his people did not believe in total depravity; if total depravity in the individual exists, it must be at the end of life and not at the beginning, for men may resist all impulses for good and the strivings of the spirit until evil is unrestrained.

The teachings and doctrines of Jesus Christ are to make men better, to santify them to Godly lives. Not that men shall reach a state in this life in which they can not sin but that habits of righeousness may become fixed so that men shall not have the desire to sin.

The doctrines of Jesus, He declared were not His doctrines, but those of the Father who sent Him. They were taught by Him so clearly either directly or by necessary inference and implication, that the Apostle Paul preaching them for fourteen years, congratulated himself on his return to the brethren at Jerusalem, that he found that he was in harmony with them.

This is the continuance in His word which is promised. In conclusion President Smith spoke of his own seventy-five years of life and forty-seven of ministry during all of which he had tried to preach the way of life.


Note: This same report was printed in the Honolulu Hawaiian Gazette of Oct. 15, 1907.